Melbourne's Makers' Market by the Bay 
Since 1970, the St Kilda Esplanade Market has been a Sunday delight in St Kilda.
It's famous for a good reason – there's something for everyone and more!
Enjoy browsing through works by more than 90 artists and craftspeople in Melbourne's open-air gallery by the sea.
Each and every stallholder has a hand in making the products being sold. Take the time to ask how their products are made, and you will soon see the love and passion that is poured into each of their one-of-a-kind pieces of work.
From gifts and souvenirs to furniture and jewellery – you will leave with confidence knowing that you will take home something that is truly one of a kind.
New stalls are added to the market on a regular basis so there's always something different to catch your eye!
Our history
One fine day in December in 1970, the Art Bank, now St Kilda Esplanade Market, was officially opened by Councillor Manning.
Noting the high expense of holding art exhibitions, Cr. Manning invited several artists and sculptors to exhibit at the new outdoor venue on the Upper Esplanade.
James Egan, and Ruth Epps were among the first twenty or so artists to display their work. Soon they were joined by potters, leather-workers and other artists and craftspeople, and the magic of St Kilda Esplanade Market began.
The market quickly attracted stallholders, artists and makers from all over. Adam Elliot, Academy Award-winning animator and director of Harvey Krumpet, sold his hand-painted t-shirts at the market for five years!
The market has always been a platform for new artists to begin their careers and is so loved by some stallholders that they have stayed on for as long as it has been running.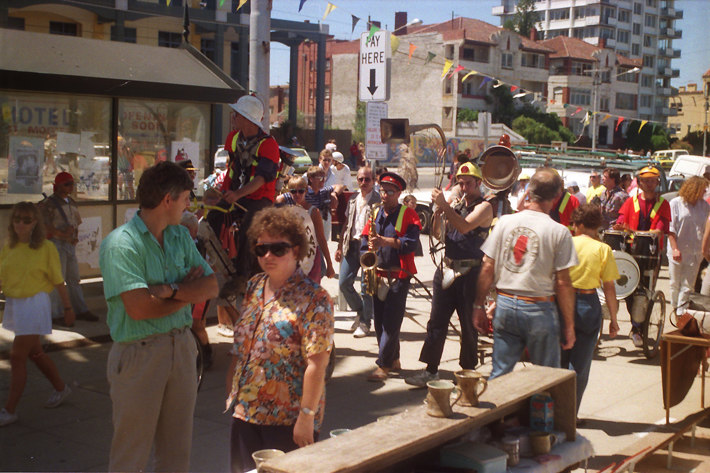 Supporting local makers since 1970